his is Transmission, a twice-weekly newsletter built to chronicle the seismic shift in auto supplier networks as the industry goes cross-border and electric.
Blockade finally ends, KCS and Mexico relieved
In late September, protest groups began blocking ports and rail ramps in the Mexican state of Michoacán. These blockades not only had a devastating effect on the Mexican economy but also disrupted Kansas City Southern de Mexico's (KCS) intermodal network, delaying shipments to automotive manufacturers and other customers. A month later, the blockades were believed to have finally stopped‒only to resume about a week later.
On Dec. 1, KCS announced that the blockades had officially come to an end. Officials with Mexico's Ministry of the Interior reached an agreement with teachers from the National Coordinator of Education Workers Union of Michoacán (CNTE).
(Chart: Freightwaves SONAR. Rail terminal dwell times for KCS (blue) increased throughout Oct. and Nov. while rail movement of motor vehicles and parts (orange) are steadily on the increase as of Dec 1. )
KCS, the provider of rail service for Michoacán, saw rail terminal dwell times spiked in September. The pause in protests allowed dwell time to decrease back to normal, only to increase to over 25 hours when the blockades resumed. The effects of the protests were also seen throughout Mexico's rail network, with movement of vehicles and components taking a dip mid-September. Motor vehicles and parts were down 1.4% in November compared to last year. Mexico's Association of Industrialists of the State of Michoacán estimated that the rail blockade was costing the country $2.4 million every day, totaling, after 60 days, $141 million.
We saw a short pause in protests before, so are they actually over? The agreement between the Mexican Ministry of the Interior and the CNTE points to a final resolution. However, according to the statement on KCS's website, the rail company stated, "While we remain cautiously optimistic that the mainline will remain clear, there is risk that the situation could reoccur." Time will tell.
The blockade caps off a year of extremely low intermodal volumes for Mexico compared to the U.S and Canada, with total intermodal volumes being down 12.6% and total movement of motor vehicles and parts being down 23.2% compared to last year. KCS de Mexico intermodal volumes are down 16.7% YTD. The Mexican economy has taken a hit due to the pandemic and the protests only added to the hurt. With a recent surge in COVID cases, Mexico could lose even more this year with potential outbreaks effecting suppliers and manufacturers across the country.
---
Chargepoint and Volvo teaming up
Chargepoint and Volvo are teaming up to provide Volvo drivers with access to Chargepoint's charging stations. This alliance follows Volvo's recent announcement showcasing Volvo's newest member of the Recharge fleet, the Volvo XC40, a battery-electric SUV. Chargepoint already operates one of the world's largest charging networks.
This collaboration between the two companies also will address two concerns of EVs, charging access and speed. "This collaboration with ChargePoint gives Volvo Cars a way to break down one barrier to EV adoption, which is the ability to quickly and easily get a charge," said Anders Gustafsson, Senior Vice President, Americas and President and CEO, Volvo Car USA.
To smooth the EV adoption process, Volvo drivers who purchase the XC40 Recharge or other Recharge models will be offered a Chargepoint Home Flex, which according to Chargepoint, "is one of the market's fastest, most advanced and flexible home chargers available today." Volvo drivers will also have access to Chargepoint's entire network of charging stations, encompassing approximately 115,000 stations.
By partnering with OEMs, charging companies like Chargepoint or EVgo can get higher charging station utilization. Potential buyers will be more inclined to buy an EV from a traditional OEM if the charging network is more accessible, compared to Tesla's private charging network which only is accessible to Tesla vehicles. Tesla currently holds 18% market share of global EV sales and as more OEMs and charging companies partner up, we're going to see a shift as the EV pie grows larger.
Volvo now has the ability to incentivize potential EV buyers with at-home charging options and easy access to Chargepoint's reliable network. Could we see more deals like this in the future? Yes. And we already have. GM and EVgo have jointly invested in building 2,750 fast chargers across the nation.
---
Aware it's behind, VW struggles to articulate a technology strategy
In a candid article on LinkedIn, Herbert Diess, CEO of Volkswagen Group, addressed how VW should handle the transformation of the company amidst an EV future. One of the most interesting sections went into detail about "Mission T", the meeting where executives from VW Group met to discuss the question: "What do we have to achieve in the next six months to catch up with Tesla in terms of technology by 2024?"
Diess wrote, "The event revolved around how we can catch up with Tesla – a company focused exclusively on the future, without a traditional car business. Its Silicon Valley-style ecosystem is influenced by software capabilities, focus on technology and risk culture."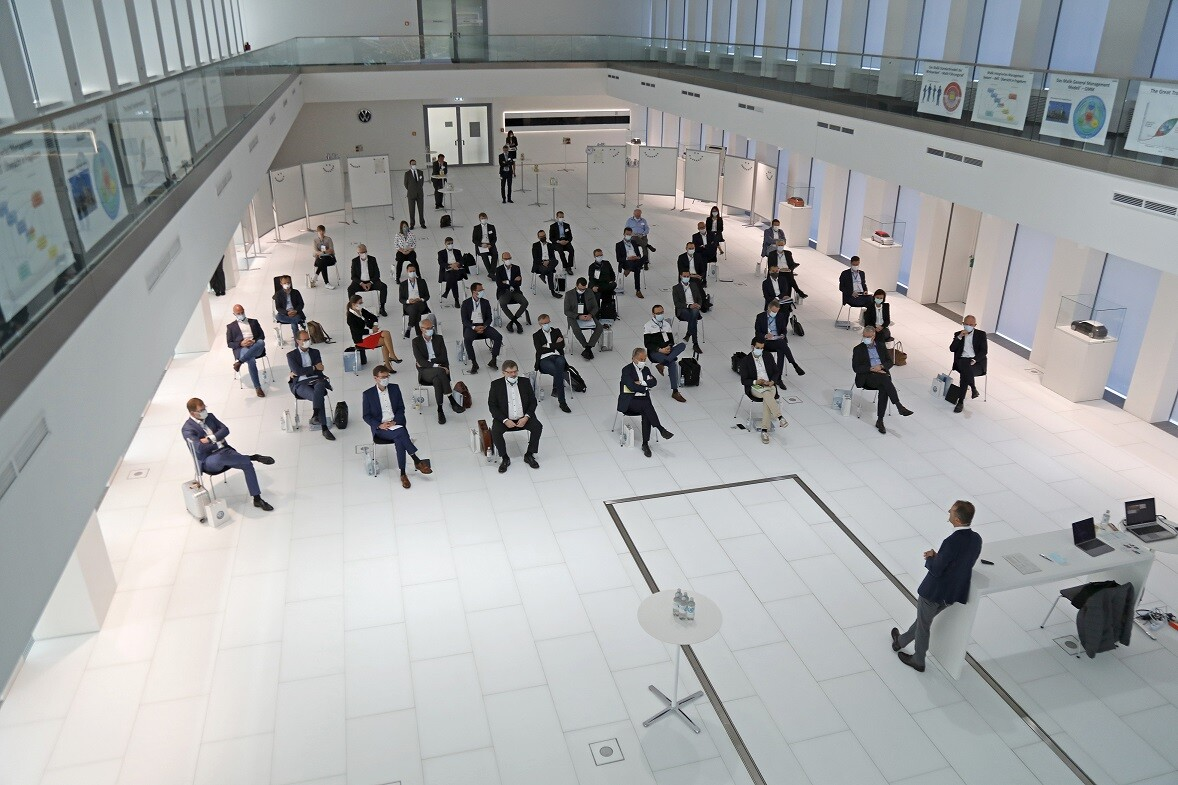 (Image: Herbert Diess, Volkswagen. Back in April, 31 executives from VW, Audi, and Porsche gathered to discuss "Mission T".)
Points to Volkswagen for finally buckling down and taking the race with Tesla more seriously. However, they're chasing a moving target. If you glance at the picture above, you'll notice business people in suits and blank whiteboards. The image paints a picture of bureaucracy and a lack of vision, which is the opposite of how Tesla and Musk operate. This honestly points to VW's biggest problem‒the corporate structure is holding back VW from seriously competing with Tesla. The supervisory board is controlled by IG Metal (the union) and the state of Lower Saxony.
In my opinion, Herbert Diess is a fresh breath of air. An admirer of Tesla and huge proponent of electric vehicles, Diess wants the company to aggressively pursue this goal. The automaker just announced the dissolution of the motorsports division, in favor of shifting expenditure to EV development. Volskwagen also committed to spend $86 billion on electric vehicles.
The company executives met earlier this week to discuss Diess' requested contract extension, with his current contract ending in 2023. Talks were inconclusive and will resume next week at the Supervisory Board meeting.
---
Industry News
Daimler and Portland General Electric (PGE) are creating an Electric Island for commercial trucks. The facility will be their first of its kind and includes fast charging of greater than 1 megawatt by early spring 2021.
The Corvette is getting an upgrade. Roof-systems supplier Webasto has developed a retractable hardtop roof that will be the Corvette's first in its 67-year history.
Adient, an automotive seating supplier, posted a $36 million net loss in Q4, compared to $4 million this time last year. Adient management was positive, projecting increased volume and industry growth moving into 2021.
Like what you just read? Join the community! Sign up from Transmission and get insight, news, and analysis regarding the automotive supply chain: https://freightwaves.com/transmission