As societal shutdowns because of the COVID-19 pandemic dragged on into the middle of April, the food supply chain has started to center itself. That, and there seems to be a lot of demand right now for alcohol.
Those are some of the highlights from the latest data collected by logistics platform provider FourKites. A similar story is playing out in the broader freight markets, according to FreightWaves SONAR data, as volumes start to rise once again.
FourKites said there was a drop in shipped loads across meat, dairy, alcohol and pet food over the past month of between 10% and 15%. Meat shipments declined 17%, it said, during the week of April 20, compared to their peak the week of March 23.
Load cancellations – those that were planned between two and three weeks in advance but cancelled by the customer – for the week of April 20, climbed 9% week-over-week and are up 22% month-over-month.
"The data confirm the impact of the current health crisis on the national food supply, including meat and poultry, with meat processing load volumes declining even below their typical volume from a couple of months ago," FourKites wrote in a blog posting.
Notably, the company said the decline in shipments in the meat, dairy, alcohol and pet food categories were "not quite as precipitous as we expected."
Each category posted a month-over-month decline, but alcohol has rebounded after hitting lows the week of March 30 – the category was up 28% over the week of April 13, although it is still down 13% month-over-month. Alcohol shipments have nearly returned to their mid-February levels, though, down just 1%.
Pet food volumes are also off just 1% from February but fell 9% month-over-month. Dairy is down 4% from February and 5% month-over-month.
Personal care and consumer packaged goods (CPG) are bouncing back from mid-March lows with load volumes as strong as they've been all year, FourKites said.
In the broader trucking market, load volumes were up 4% week-over-week, according to SONAR data. All 15 of the major freight markets FreightWaves tracks were positive on a week-over-week basis, but the Outbound Tender Rejections Index (SONAR: OTRI.USA) has reached a value of 2.57%, the lowest in the index's history, suggesting continued pressure on rates.
OTRI is a measure of carriers' willingness to accept loads at contracted rates and currently, carriers are moving whatever freight they can find. Contract volumes are beginning to increase, but tender rejection rates will not trend up across the country until capacity is filled in most markets.
There is evidence, though, of increasing import volumes. According to Zach Strickland, market analyst for FreightWaves, maritime shipment volumes are at higher levels than they were prior to COVID-19.
"Import volumes from China typically slow for about four to six weeks following [Chinese New Year] due to factories shutting down and taking time to ramp back up, making it difficult to tell just how much impact the virus was having on production," he wrote. "[But] the COVID-19 outbreak pushed import volumes approximately 60% lower than last year at the trough. Now maritime shipments from China are exceeding last year's numbers as orders that were placed in the early stages of the pandemic hitting the U.S. are now reaching the ports."
Strickland pointed to the Outbound Tender Volumes Index (SONAR: OTVI.USA), suggesting that the increase in maritime volumes may not immediately translate to higher truckload volumes. OTVI has been trending up since Easter, increasing 6.1% over the past two weeks, although it is still 7% lower than 2019 levels. During this time, maritime shipments from China have nearly doubled.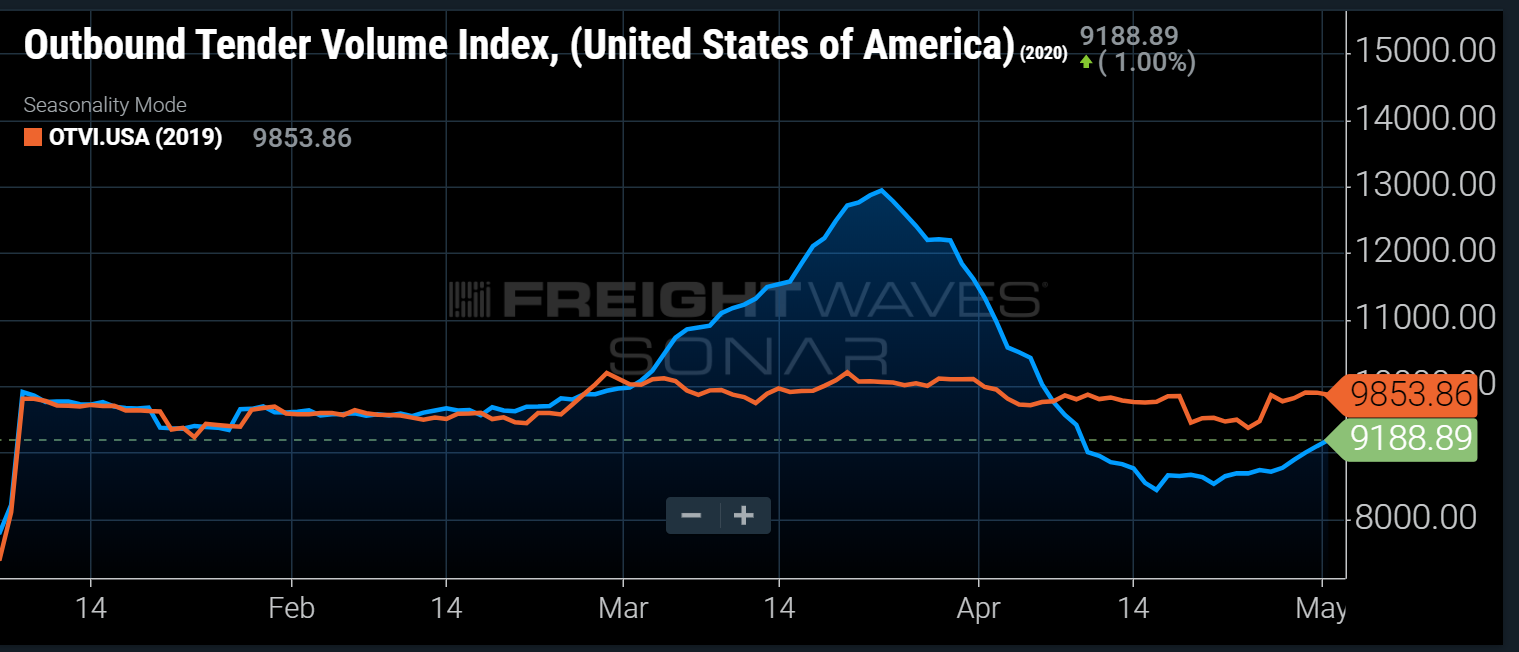 "The problem with deriving too much optimism from this figure is that many of these orders were placed over a month ago when freight volumes were peaking, before demand had softened significantly. Many of these orders may end up in warehouses as cancelled or unused for a while," he wrote.
One area of freight that may be delayed in a recovery is automotive. Several automakers, including Toyota and Volkswagen, have pushed back plant reopening dates.
"Vehicle makers will naturally be anxious to be well-positioned to meet US demand as it starts to recover over the coming weeks and months," explained David Leggett, automotive editor at data and analytics company GlobalData. "However, restarting their manufacturing operations after the COVID-19 induced halts won't be easy. Volkswagen has admitted that it cannot restart operations at its Chattanooga plant as planned this week due to concerns over the 'readiness of the supplier base' as well as market demand."
Leggett noted that logistical concerns could also hamper automotive imports.
"For importers, too, there are issues emerging in logistics due to shuttered dealer forecourts in many states and logjams at ports," he said.